Fr 25. - Su 27.11.
1. INTERNATIONAL NEO-TANGO MARATHON STUTTGART / GERMANY

DJ Volker Marschhausen
(Germany/Bremen)

DJ Jean-Marc Vandel
(Swizzerland/Lausanne)

DJane Anna Naum
(Russia/Moscow)

DJane Sonja Armisen
(Germany/ Munich)

DJane Peggy Schorn
(Germany /Tübingen)

DJ Thanos Kasidis
(Greece / Athens)
Nur noch Tagestickets für Samstag & Sonntag! Hier klicken um zu buchen!
Only day tickets for Saturday and Sunday! Click here to buy!
Prices day tickets: Saturday € 45,- / Sunday € 35,-
Possible payment methods: Paypal, Credit Card and Giropay.
[Tangomarathon] [Schedule] [DJs] [Venue] [Travel] [Accommodation] [Prices] [Tickets & Contact]



| Schedule | |
| --- | --- |
1st NEOTANGO MARATHON STUTTGART

Fr 25.11.

21:00 Marathon Welcome & Check-In


22:00 - 1:00

WARM-UP CROSSOVER MILONGA



1:00 - 6:00

NEO TANGO - 5 hours with changing DJ´s

Nightsoup by YAFA

Sa 26.11.

13:00 - 6:00

NEO TANGO - 17 hours with changing DJ´s

Lunch, Dinner & Nightsoup by YAFA

Su 27.11.

13:00 - 0:00

NEO TANGO - 11 hours with changing DJ´s

Lunch, Dinner by YAFA
PROGRAM

Fr 25.11.

21:00 Marathon Welcome & Check-In
22:00 - 23:00 JEAN-MARC
23:00 - 24:00 JEAN-MARC
00:00 - 01:00 ANNA
01:00 - 02:00 SONJA
02:00 - 03:00 VOLKER
03:00 - 04:00 VOLKER
04:00 - 05:00 THANOS
05:00 - 06:00 THANOS




01:00 Nightsoup by YAFA

Sa 26.11.

13:00 - 14:00 VOLKER
14:00 - 15:00 VOLKER
15:00 - 16:00 VOLKER
16:00 - 17:00 ANNA
17:00 - 18:00 ANNA
18:00 - 19:00 JEAN-MARC
19:00 - 20:00 JEAN-MARC
20:00 - 21:00 PEGGY
21:00 - 22:00 PEGGY
22:00 - 23:00 THANOS
23:00 - 24:00 THANOS
00:00 - 01:00 VOLKER
01:00 - 02:00 VOLKER
02:00 - 03:00 ANNA
03:00 - 04:00 ANNA
04:00 - 05:00 JEAN-MARC
05:00 - 06:00 JEAN-MARC


13:00 - 14:00 Lunch by YAFA





19:30 - 20:30 Dinner by YAFA

01:00 Nightsoup by YAFA

Su 27.11.

13:00 - 14:00

THANOS


14:00 - 15:00

THANOS


15:00 - 16:00

THANOS


16:00 - 17:00

JEAN-MARC


17:00 - 18:00

SONJA


18:00 - 19:00

SONJA


19:00 - 20:00

PEGGY


20:00 - 21:00

PEGGY


21:00 - 22:00

ANNA


22:00 - 23:00

ANNA


23:00 - 24:00

LEONARDO

13:00 - 14:00 Lunch by YAFA

19:30 - 20:30 Dinner by YAFA
| DJs | |
| --- | --- |


*VOLKER MARSCHHAUSEN*
Volker has been dancing for more than 25 years Tango and is the organizer of Tanguerilla and NeotangoRave, both of them international, multimedia Tango events.
Contemporary Tango takes center stage of his mix, a danceable selection of Tango Nuevo (Pugliese / Diaz / Piazzolla), Neotango (Gotan Project, Tango Joints, Narcotango, Bajofondo, Otros Aires, ...) and Tango Progressivo (Astillero, El Afronte, Zárate, Sexteto Milonguero, OTFF, …) enriched with a touch of refined Fusion.
---
*PEGGY SCHORN*
| | |
| --- | --- |
| Peggy Schorn, Neolonga X, Tübingen Tango is (E)Motion. When djing I want to unleash your laughter, joy, passion, grieve, playfulness, longing, indulgence, connection, distance, pride, humility, softness, firmness, your anticipation and your hestitation, your improvisation......dare to embrace your emotions,your partner and new movements on a journey through the variety of Non- and Contemporary Tango Music with me. I host regular neolongas and special events like dark milongas, contact tango nights and silent milongas. I have been invited to dj at international neo festivals in Bremen and Berlin and to neolongas throughout Germany and Switzerland. For more information see my homepage | |
---
*THANOS KASIDIS*
Thanos started dancing tango in 2006 . He was always been fascinated by alternative music for tango steps . He is been organizing "Milonga Aternativa" for 4 years in different places in Athens and also was a dj @ Bremen Neotango Rave Festival , athens tango marathon , ToRave Torino international tango Rave and Roma NeoTango Marathon .
Always plays music according to the feelings of the moment and the people in the dance floor .

www.facebook.com
---
*ANNA NEUM*
In music since childhood, playing range from piano classics to rock band.
Fall in love with tango music in 1998. It took more than 10 years to start dancing instead of just listening, but it worth that.
Both loves Golden era and Neo tango music and hopes that some day they can at last live in harmony
---
*JEAN-MARC VANDEL*
Born and raised in Switzerland, Jean-Marc has been fascinated by electrotango since he first discovered it back in 1985. He co-founded the Tangofolie association in 1994. Tangofolie organized one of the oldest tango festival in the world: Les Tangofolies de Lausanne.
Since 2006, Jean-Marc has been actively promoting the cause of neotango by organizing the only neolonga in the Lake Geneva region, which takes place during summer in a beautiful park in Morges.
Jean-Marc performed also in Munich, Fribourg, Lyon, Aix-les-Bains, Honfleur, Kiev, Minsk, Rome & Bremen.
An avid and eclectic music aficionado, he likes mixing different styles in his sets. His performances offer a multimedia experience, in which he strives to find the perfect balance between electrotango and non-tango.
---
*SONJA ARMISEN*
Sonja Armisen was one of the first pure NeoTango DJs starting around 2004,
she produced 2 electrontango CDs and started (probably) the first Neotango Milonga in
in Europe in 2004.
Since that time she has been djing in a lot of events all over the Tangoworld.
Her sets contain a lot of Electrotango, Tango Nuevo and some alternativ music.
| Venue | |
| --- | --- |
What you can expect
A special, artistically decorated dance location with beautifull atmosphere.
Best international experienced Tango DJ´s playing for you the nicest tandas.
Good quality tango music that will makes you "fly".
A great dance floor ideal for long hours dancing, layed and tested by professionals.
Excellent well tasting food provided by "Shell Yafa" specialized on meditaranean couisine & home made food cooked for you with love!
A nice friendly team that will take care that you enjoy your marathon in Stuttgart.
A great city with lot´s of green, parcs, lakes, thermal baths, museums, cultural events and nice people .
The city
Stuttgart, the capital city of the german state Baden Württemberg in south Germany has not only amazingly friendly citizens, but it also beautiful nature allover around it. Famous in Stuttgart are the Art Galleries, the Fernsehturm Tower, the Mercedes Benz Museum, Porsche Museum, Rosensteinpark (in walking distance to >TANGO OCHO<), Wilhelma Zoo, Leuze Mineral Baths, Stuttgarter Theater & Ballett and much more.
| Travel | |
| --- | --- |

The marathon venue adress is: >TANGO OCHO< - Innerer Nordbahnhof 1 - 70191 Stuttgart. In case you don´t find this adress in google maps, just type in TANGO OCHO.


Stuttgart airport (STR)
Stuttgart has an international airport. At the airport you can take one of the public transports called S-Bahn. Lines S2 or S3 bring you to the city center in about half an hour. The S-Bahn rail station you can easily reach from the flight arrivals following the green sign with the symbol S. It is one level below the level of flight arrivals at the Stuttgart airport. Please buy and if necessary stamp your ticket before you enter the S-Bahn. Tickets you can buy at the machines located at the entrance of the station.
Travel direction is Stuttgart Stadtmitte/Hauptbahnhof. You can also take a taxi which waits for you 24h a day in front of the airport. This will bring to the city center in about 20 Minutes for about 30 to 35 Euros.

Frankfurt (FRA) or Munich airport (MUC)
Other possibility to get to Stuttgart is to fligh by plane to Frankfurt or Munich and from there to take a direct train to Stuttgart. Notice: With Lufthansa you can book the flight including the train ticket to Stuttgart.

Flights to Stuttgart
Check the following links to find your flight to Stuttgart
www.skyscanner.de
www.opodo.com
www.expedia.com

Taxi in the city
If you travel very late at night when public transportation is not working you can call a taxi.
All taxi drivers use taximeters and you can ask them for a receipt. At >TANGO OCHO< you can just ask as to call for you a taxi. The taxi service knows already the location if you say TANGO OCHO or WAGENHALLEN and arrives there within a few minutes. Please go out and stand in front of the >TANGO OCHO< sign, so that the taxi driver doesn´t have to look for you.

Phone numbers are:
+49-711-19410 Taxi Zentrale Stuttgart
+49-711-5510000 Taxi-Auto-Zentrale Stuttgart
| Accommodation - Hotels & Guest Rooms in Stuttgart | |
| --- | --- |
ARCOTEL CAMINO STUTTGART
Heilbronner str. 21
70191 Stuttgart
Tel: +49-(0)711-25858-0
www.arcotel.at

KONGRESSHOTEL EUROPE


Siemensstr. 26
70469 Stuttgart
Tel: +49-(0)711-81004-0
www.europe-hotels-int.de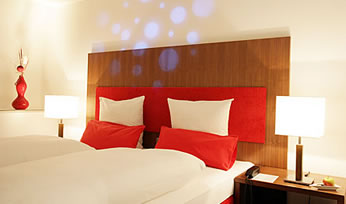 IMERCURE CITY-CENTER


Heilbronnerstr. 88
70191 Stuttgart-Zentrum
Tel: +49-(0)711-255580
www.mercure.com
IBIS HOTEL STUTTGART AM LÖWENTOR

- the closest hotel to >TANGO OCHO<
Presselstr. 15
70191 Stuttgart
Tel: +49-(0)711-255510
www.accorhotels.com
IBIS BUDGET HOTEL STUTTGART

- only 3 metro stations (U-Bahn) to >TANGO OCHO<
Siemensstr. 28
70469 Stuttgart - Feuerbach
Tel: +49-(0)711-88200720
www.accorhotels.com
WEINSBERG STADTHOTEL

* * *
Grazer Str. 32
70469 Stuttgart - Feuerbach
Tel: +49-(0)711-13546-0
www.stadthotel-weinsberg.de/
RATSSTUBE

* *
Wilhelm Geiger Platz 8
70469 Stuttgart - Feuerbach
Tel: +49-(0)711-255510
www.ibishotel.com
GUESTROOMS STUTTGART


Heilbronner Str. 165
70191 Stuttgart
Tel: +49-(0)711-9979266
www.gaestezimmer-stuttgart.de
PENSIONS, GUEST ROOMS STUTTGART CITY
http://www.deutsche-pensionen.de/pension-stuttgart/verzeichnis-lage.html#P17
BEDANDBREAKFAST
www.bedandbreakfast.de
www.pension-stuttgart.de
www.night-and-day.de
OTHER COOL POSSIBILITIES TO FIND ACCOMMODATION
www.booking.com
www.airbnb.com
www.couchsurfing.com/
| Prices per Person | |
| --- | --- |
Only y few daytickets left for followers and leaders
Friday ticket € 20 including Late Night Soup by Yafa
Saturday ticket € 45 including Lunch, Dinner & Late Night Soup by Yafa
Sunday ticket € 35 including Lunch & Dinner by Yafa

All prices include also water & differnet types of tea.
The food will be cooked by Shell`Yafa Catering - www.shellyafa.com
| Bank account details | |
| --- | --- |

Account holder: TANGO OCHO
Bank: Postbank Stuttgart
IBAN: DE52600100700114410702
BIC: PBNKDEFF
Purpose : Neotango Marathon Stuttgart 2016
| Day Tickets, Sign Ups & Tango Marathon Infolines | |
| --- | --- |
You can buy one of the last day tickets HERE. Please notice that there are special tickets for leaders and other tickets for followers.
Payment methods are Paypal, Credit Card or Giropay for most German banks.



For any question please contact Vera at >TANGO OCHO< STUTTGART.
E-Mail: vera@ocho.de
Phone / SMS: +49-171-8225029