Tangoballs




Th 3. Dec 22:00 OPENING-BALL with LIVE MUSIC *ORQUESTA ATÍPICA STUTTGART*
Fr 4. Dec 22:00 TANGO BALL with LIVE MUSIC *CUARTETO ROTTERDAM*
Sa 5. Dec 22:00 BIG SNOWBALL with spectacular Midnightshow starring *MALIKA & HARIS* and *ALPER & SELEN*

Location: TANGO OCHO STUTTGART - Innerer Nordbahnhof 1 - 70191 Stuttgart
---
Fr 3. Dec
19:00 M&H "Tango: Rhythmical Turns" book FR1
20:30 S&A "Tango: Sacadas & Boleos" book FR2

Sa 4. Dec
12:00 S&A "Tango: Dancing in small space" book SA1
13:30 S&A "Tango: Dynamics in turns" book SA2
15:00 S&A "Milonga à la Selen & Alper" book SA3
16:30 M&H "Basics: Embrace, connection, balance" book SA4
18:00 M&H "Vals: Different rhythmical patterns'' book SA5
19:30 M&H "Special: The Art of Improvisation from another point of view" book SA6
Su 5. Dec
12:30 M&H "Basics: Walking: Linear, Circular & Elegant" book SU1
14:00 M&H "Milonga: The best lead is no lead" book SU2
15:30 S&A "Vals: Simple Turns" book SU3
17:00 S&A " Tango: Surprising Barridas" book SU4
M&H = Malika Pitou & Haris Mihail
S&A = Selen Sürek & Alper Ergökmen
---
*MALIKA PITOU-NICOLIER & HARIS MIHAIL*
Malika of French nationality and dancer since the age of 5 years old and Haris of Greek nationality and dancer since the age of 17 years old, began dancing and teaching together in 2010.

They are part of the younger generation of professional dancers.
By their meeting was born a free tango, fed by other practices such as Jazz, Street Jazz, Contemporary Dance, Tango Contact ... but always true to the essence of Argentine tango.

Since 2011, Malika & Haris are part of a team of teachers and dancers of Argentine Tango in the school "TANCO MON AMOUR" in Lyon / France where they give classes and workshops accessible to all. A Tango refusing bias, that has as base the communication between the partners without ''obligation'' where everyone is free to develop his/her style. "Develop a comfort embrace, feel the communication between the bodies and abandon any idea of force and tension in the leading, are some of the issues - key to their pedagogy''.

In addition to teaching in their school, Malika & Haris also give seminars and performances at international festivals such as : TANGO GREECE FESTIVAL in Athens – FESTIVAL INTERNATIONAL of Aix les Bains – FESTIVAL LATINO in Saillans – DANUBIANDO in Budapest – VERY NICE TANGO FESTIVAL in Nice – FESTIVAL DE TANGO in Nancy – TANGO ALCHEMIE in Prague – TANGO CARNAVAL in Ankara ….. and still counting !

Malika & Haris are well known as much for their ability to improvise on the dancefloor as for their imagination in creating choreographies entertaining and enjoyable for everyone. In 2012 they organized the first International Festival of Tango in Lyon, the FESTIVALITO MON AMOUR. Festivalito Mon Amour and in 2014 they organized the third edition. They work with many musicians as : Jérémy Vannereau, bandoneon, Eric Francerie, guitariste, the tango orchestras : Roulotte Tango, Otros Aires, Quartet a la Parrilla, with the ''ensemble of Isabelle Meyer'' presenting the show « Piazzolla, 4 saisons de Tango ». In 2012 they presented the Tango show « Noche de Bandoneon » at the theater of Aix les Bains, produced in collaboration with Mariana Patsarika and Dimitris Biskas and the Dance Academy of Doriane.
---
*SELEN SÜREK & ALPER ERGÖKMEN*
Alper & Selen (Ankara), one of the new generation couples, dance in harmony of dynamics, emotion and elegance. They blend these motives with their in-depth and enthusiastic approach to tango. With their admiration and eternal respect for tango, they have created a unique style with a distinct use of musicality.They give priority to fluency and an analytical approach not only in their dancing but also in their method of teaching. While sharing their knowledge and experience related to tango, they have created an enjoyable style which concentrates on the essence of the subject, combined with musicality and improvisation.

Alper & Selen continue to teach and learn because they believe that learning never ends in tango, just as in life. They have been dancing and teaching together since 2005. They have been invited to several tango festivals and workshops They are teaching and performing not only in different cities of Turkey, but also in different countries around europe like Cyprus, Russia, Ukraine, Greece, Germany, Holland, Finland, Canada, Belgium.
In 2010 they performed in Buenos Aires milongas and they have danced with great orchestras; Sexteto Milonguero (Argentina), Soledad (Russia) and Tango Plus (Turkey).They were the champions at the First Open World Tango Championship which was held in Istanbul in May 2008. At the present they continue to give tango lessons in their own studio called "Tangoloji Dance Studio".

---

CUARTETO ROTTERDAM
Cuarteto Rotterdam is tango – full of passion, virtuosity and power – taking account of more than 100 years of tango history. Being conscious of this tradition, they perform the early and more cheerful kind of tango music from the Guardia Vieja era with such ease that it makes everyone want to dance. In a compact quartet style they present the Golden Age of tango from the 1940's with the highlights of the grand orchestras a la Di Sarli, Troilo, D'Arienzo, Pugliese or Salgán. They feel so close to the challenging Tango Nuevo of Astor Piazzolla that the heartfelt melancholy and complexity of this music is noticeable all the time. And curious they are as well – curious about the new aspects of tango. In searching for the tango of the 21st century, they have included contemporary Argentine and European tango pieces in their concert and dance programme.
The Quartet's classic structure, consisting of bandoneon, violin, piano and double bass, provides a sound experience ranging between tradition and modernity. With their experience, creativity and imagination, this small orchestra conjures up a world of tango for all kinds of emotions.
Cuarteto Rotterdam was founded in 2004 by Michael Dolak and S. Cordula Welsch, together with Judy Ruks. At that time the three of them were studying tango at the Rotterdam Academy for World Musik (The Netherlands). The experienced tango double bass player Tino Scholz has been a member of the ensemble since summer 2008.
Today, concert halls and international tango festivals like in Paris, Istanbul, Amsterdam, Berlin or Buenos Aires can no longer be imagined without these four musicians, who have always been able to inspire both concert-goers and tango dancers.

---
---
Tango shoes & Tango Fasion for Tangueras & Tangueros




Frida, 4.12.
19:00 - 22:00 Tangofasion" GS-MOVE DANCE FASION" - Gabriele Stankozi
Saturday, 5.12.
12:00 - 21:00 Tangoschoes"MONO" - Manon Weiss
12:00 - 21:00 Tangofasion"GS-MOVE DANCE FASION" - Gabriele Stankozi

Sunday, 6.12.
12:30 - 18:30 Tangoschoes "MONO" - Manon Weiss
---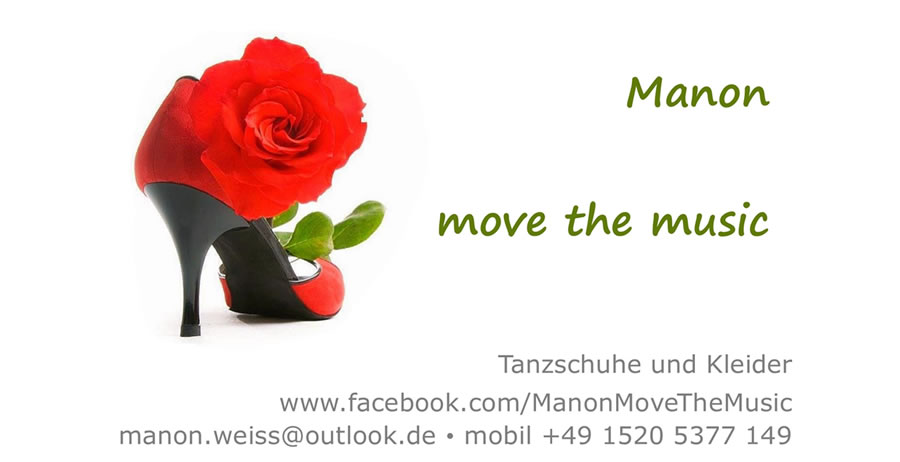 ---
GS MOVE - Tango shoes & Tango Fasion for Tangueras & Tangueros


GS - Move:
Dance Shoes & Dance Fasion at the 'Internationalen Snowball Festival im Ocho in Stuttgart', Friday 4.12. und Saturday 5.12. during the workshops.
Facebook: www.facebook.com/gsMove/
---
Prices



Balls
Opening-Ball Th 10 €
Friday Tango Ball with Cuarteto Rotterdam In advance booking 12 € / regular 16 €
Saturday Tango Ball with Shows Selen & Alper & Malika & Haris In advance booking 14€ / regular 18€
Ballpass 2 (2 Balls fr+sa) 24€
Ballpass 3 (3 Balls th+fr+sa) 30 €

Workshops
1 Workshop - 30 €
2 Workshops and more - 25 € per Workshop
4 Workshops and more - 22 € per Workshop

Workshoptickets
Workshop ticket 1 for 6 ws 125 €
Workshop ticket 2 for 8 ws 165 €
Workshop ticket 3 for 10 ws 195 €
---
Ballticket-Reservations




Vera mobile: Tel +49-171-8225029
Leonardo mobile: Tel +49-151-24072329
TANGO OCHO: Tel +49-711-583411
Email: vera@ocho.de
Route
---